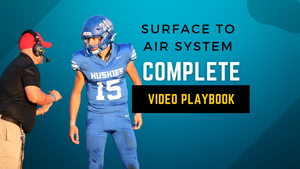 Surface To Air System: The Complete Video Playbook
Regular price
Sale price
$149.99
---
The video playbook that took a team from a 1-8 doormat to a consistent Top Ten ranked team is here!

The Complete Video Playbook features the same coaching points, schemes, and answers that Coach Rich Hargitt has been using at Emmett High School in Emmett Idaho for years now.
Emmett is the smallest team in their classification and conference, but somehow they've managed to beat teams MUCH bigger than them each year. 
This offense is a BIG reason why.
Inside The Playbook:
This playbook includes more than just diagrams and assignments - It's full of solutions to problems coaches face every Friday night.
Pass concepts to quickly identify what coverage the defense is playing

 

- Gives you post-snap keys so it's impossible for the defense to disguise their game plan.
RPOs to attack man-match coverage

 

- Get receivers wide open against complex match coverages that more and more defenses are using.
Time-tested run plays for EVERY defensive front you'll see

 

- Move the ball and win the line of scrimmage consistently by having the right play calls in your game plan.
Blocking scheme change ups to deal with heavy stunting & slanting teams

 

- Use the defense's movement against them.
Unique formations and motions that cause headaches for opponents - Power run game and spread sets (we call them our "Northwest Sets") 
PLUS - Film explanations of each concept in the playbook!
Almost 7 hours of clinic talk, including:
Part 1 - Philosophy
Part 2 - Inside and Outside Zone
Part 3 - Gap Schemes
Part 4 - The RADAR Process
Part 5 - Dropback Pass and New England Series
Part 6 - Play Action Pass
Part 7 - Northwest Sets 
Check out the free preview below:
Don't wait, start streaming your copy of this amazing resource today!
Frequently Asked Questions
Is this your actual playbook and terminology?

 

- Yes! This are the exact same plays, play names, and coaching points Coach Hargitt has used to take Emmett to the playoffs for the past 3 years in a row!
Do I need to be a Surface to Air System Member to purchase this? - No, this is available to all members and non-members. However, system members receive the playbook and hundreds of other resources for free when they join.
Will this fit with my offensive style/personnel?

 

- Yes! This playbook can be used as a resource for ideas for specific problems, or it can be used to overhaul your offense completely.